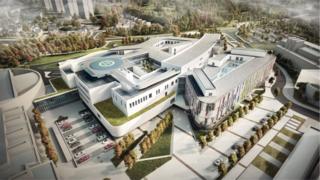 The new children's hospital in Edinburgh won't be fully operational for at least another year, Health Secretary Jeane Freeman has revealed.
The Sick Kids facility was due to open in July, but last-minute inspections found safety concerns over its ventilation systems.
Now a new report has found at least £16m worth of work is needed.
NHS Lothian is paying about £1.4m in monthly repayments to the private consortium which built the facility.
An independent review of the governance arrangements for the new hospital found that the main issue with ventilation in critical care stemmed from an error in a document produced by NHS Lothian at the tender stage in 2012.
It found that this was human error relating to confusion over interpretation of building standards and guidance, and that opportunities to spot and rectify the error were missed.
Ms Freeman said it was "unacceptable" that the hospital could not be delivered on time and revealed a troubleshooter would be brought in to help manage the project.
She added: "The safest possible care of their children is my overriding priority and I am sorry for any impact the current situation has had on them.
"I am of course bitterly disappointed that a mistake made in 2012 was not picked up earlier.
"This is a publicly funded project of strategic importance, which has not been delivered by NHS Lothian in compliance with the standards and guidance.
"The delay we now face will be borne by NHS Lothian staff, by patients and their families and the additional cost will be to the public purse."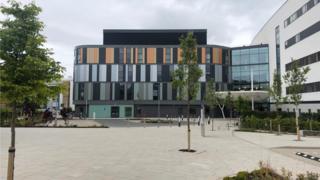 The Scottish government revealed that at least £16m was needed to rectify the problems, such as ventilation, at the new building.
The ventilation issue affects the critical care unit, as previously revealed, but also the oncology and haematology departments.
Some remedial and precautionary action is recommended for water systems, though no widespread contamination was found.
In addition, "active monitoring" of the building's drainage and plumbing has been recommended but the prospect of problems in this area was graded as "low risk".
Asked about the cost of keeping the existing Sick Kids hospital open until the new facility is ready, Ms Freeman said this would be between £6m and £7m.
The existing site has been sold to a student housing developer which had expected to have taken possession of the site by now.
'Families repeatedly let down'
Ms Freeman said that "due to the scale of the challenge" a senior programme director will take over responsibility from NHS Lothian to deliver the project.
Scottish Conservative shadow health secretary Miles Briggs said: "This confirms that patients and their families will have had to wait nearly a decade longer than promised for this much-needed hospital.
"On top of that, the taxpayer will have to fork out more than £30m between now and next autumn to compensate for these catastrophic failings.
"Staff and families alike will also be sceptical about whether this hospital will be open by next autumn.
"They've been promised – year after year – that new timescales will be adhered to, and they've been repeatedly let down."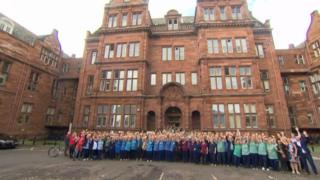 The new Sick Children's Hospital cost about £150m to build, but its full price tag over the next 25 years, including maintenance and facilities management fees, will be £432m.
Under the terms of the contract, repayments – which would average about £1.4m a month – began in February when NHS Lothian took possession of the site from private consortium IHSL.
Scottish Green MSP Alison Johnstone said: "This is a huge delay, and the people who will be most disappointed will be the staff and patients who are currently crammed into to old site at Sciennes. It is right the minister apologised to them.
"Someone signed off this new hospital when it was clearly not safe or in a fit state for use by our children. That raises the question for who is responsible and liable for this mess."
Original Article : HERE ; The Ultimate Survival Food: The Lost Ways
Top Rated Products
Absolute Beginner's Guide To Launching Your Own Outrageously Successful Human Resources Blog -- Step-by-step, Quickly And Simply I[...]
Thousands of businesses need help managing their social media accounts, and now thanks to PaidSocialMediaJobs.com you can get paid[...]
Thousands of businesses need help managing their social media accounts, and now thanks to PaidSocialMediaJobs.com you can get paid[...]
Inside this e-book, you will learn how to copy the secret quality of wealthy men most women get attracted to, that small change th[...]
ZOX Pro Training has over 35 years of experience in helping people, just like you, improve their life. Use Your Photographic Memo[...]
ZOX Pro Training has over 35 years of experience in helping people, just like you, improve their life. Use Your Photographic Memo[...]