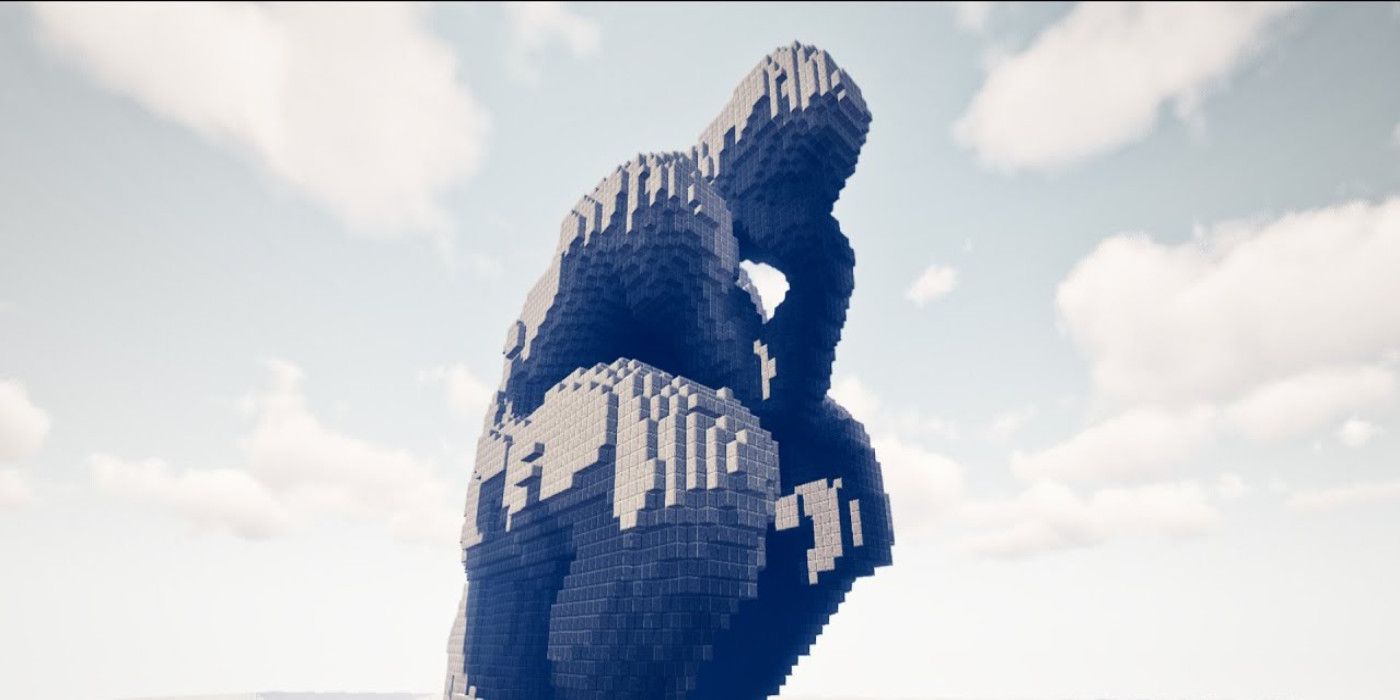 A Minecraft sculptor has recreated The Thinker from a gigantic block of in-game stone. The original, real-life sculpture was crafted by Auguste Rodin in 1904, and is one of the most iconic works of art in modern history.
For over a decade, Minecraft players have been building countless amazing creations in the game. The community hasn't lost any steam over the years, either; in fact, there seems to be more interest in the game than ever. The coronavirus pandemic has caused different degrees of self-isolation and quarantine around the world, and many players are using that time to create or enhance things in Minecraft. For example, a modder recently built a fully functional computer in Minecraft that runs Windows 98 and can play the original Doom. New creations are being shown off all the time, and sculpting is one of the most popular methods in the game.
Related: Minecraft: Best Mods For 2020 (& How To Install Them)
Minecraft player WeAreSteve has posted a video to YouTube that shows how they sculpted a massive version of The Thinker out of stone in the popular crafting game. They began in the game's Creative Mode with a humongous block measuring 77 meters long, 100 meters tall and 59 meters wide. The stone block was steadily whittled into form from the top down, which is reminiscent of a real-world sculpting method. WeAreSteve condensed the whole process into a time lapse, which you can see below.
This certainly isn't the first time The Thinker has been made in Minecraft, but this one wasn't drawn out by putting blocks in place. It's similar to the actual technique of sculpting, like how ultra-realistic cities built in Minecraft are using tangible urban planning techniques. WeAreSteve has also constructed a number of giant figures from the ground up, including Pikachu, Aang, and the Battle Bus from Fortnite (among many others).
These kinds of works highlight the versatility of Minecraft, and how intriguing it can be as a creative outlet. The game continues to pull in players of all ages, and many of those players go on to use it as a tool for art, architecture, programming and more. Mojang just recently released Minecraft's long-awaited Nether Update, which adds a wealth of new content to the hellish zone and makes it more accessible. That's a big plus for both new and old players, and it will be interesting to see what they can make by utilizing all the additional materials.
Next: Minecraft Concerts Are Even Cooler Than Fortnite's
Source: WeAreSteve
Read more: screenrant.com
Top Rated Products
Discover The Secrets On How To Write Your Very Best Selling, Cash Inducing Book In Less Than 24 Hours... And The Best Part Is That[...]
Learn a secret language that makes any woman feel an uncontrollable obsession for you and a skinny, ugly-looking dude used this la[...]
Learn a secret language that makes any woman feel an uncontrollable obsession for you and a skinny, ugly-looking dude used this la[...]
Huge Video Series Combining Conversational Hypnosis Skills With Unknown Law Of Attraction Methods For Commanding Both Human Beings[...]
This New Ebook Reveals The Most Powerful Trading System In History That Was Used By Munehisa Homma.the God Of Markets In His Day.[...]
This New Ebook Reveals The Most Powerful Trading System In History That Was Used By Munehisa Homma.the God Of Markets In His Day.[...]